The first time I saw a "liquid housewrap" being installed, I was skeptical. I figured that a painted-on version of housewrap would never be as good as the "real" thing. But when I heard of it being used as a replacement for the origami-type work normally required to flash a recessed window, the light switched on for me.
Fluid-applied weather barriers and flashing membranes have been around for more than 10 years, mainly in the commercial building world. But I feel like it's just been in the last two years or so that they have started to gain traction in the residential world.
I've gravitated to using fluid-applied flashing mainly for window and door flashing, and particularly for recessed windows and for "outie" windows on houses with thick exterior insulation—applications that are extremely challenging to do with flexible membrane flashings for even the most experienced craftsman. And even if you have someone on the crew with the talent and patience to do a good job, it's painstaking and time-consuming, making fluid-applied flashing cost-effective for complex flashing jobs.
Sorting Out Liquid Membranes
There is a wide selection of "fluid-applied" or "liquid" membranes designed as alternatives to building wraps and flexible flashing products. The market is a bit confusing because it is still very much oriented to the commercial world. The term "fluid-applied membrane" is used for a variety of materials, the most prevalent of which are spray-on weather-resistive barriers (WRBs), often referred to in the commercial market as simply "air barriers." (For commercial construction, water control is largely managed by a rainscreen facade, while air leakage is controlled by an "air barrier" applied to the structure beneath the facade.) Many of these are formulated specifically for concrete structures (either above or below grade), and some of these commercial barriers are two-component systems that must be mixed on site, adding a level of complexity that I don't see catching on in the residential market.
For windows and other detail flashing, I'm usually looking for a liquid flashing membrane sold in either caulk tubes or sausage packs. Sometimes the brush and roller formulations are sold in buckets. (The commercial spray-on products are sold almost exclusively in 5-gallon buckets and 52-gallon drums.) Manufacturers often (but not always) offer two varieties of the fluid-applied flashing membrane suitable for window flashing: a thick, high-solids formulation (often around 50 mils wet) for gunning into corners and seams, and a thinner product (25 mils wet or less) for brushing or rolling onto the "flats"—the jambs and sheathing surfaces around the window opening.
Here are some of the single-component, fluid-applied compounds suitable for window flashing, but I'm sure there are other products available:
Carlisle BarriBond is available in 20-ounce sausage packs. It is a high-solids material that can be used by itself for window flashing (gunned into the corners and troweled out on the flats) or used with Carlisle's roller-applied BarriSeal-R fluid-applied membrane, which comes in 5-gallon pails.
DuPont offers Tyvek Fluid-Applied Flashing and Joint Compound—a thicker compound for corners and seams—and the thinner Brush Formulation for the flats. Both are available in 28-ounce cartridges, 10-ounce tubes, and 3.5-gallon pails.
Henry Air-Bloc LF is a single-component liquid flashing, sold in 20-ounce sausage packs. This one product can be used for corners and seams, and then troweled out to cover the flats.
Huber makes Zip System Liquid Flash. Available in 20-ounce sausage packs and in 29-ounce cartridges, it is also intended to be applied to corners and seams and troweled out to cover the flats.
Polyguard makes a thick joint filler called Blue Barrier Liquid Flashing 2100 (available in 20-ounce sausage packs and 2-gallon pails) and a thinner roller-grade material—called Flash 'N Wrap 2400 (available in 5-gallon pails)—for the flats.
Prosoco offers FastFlash in two formulations—a gun-grade product available in 20-ounce sausage packs and 29-ounce cartridges, and a roller-grade material sold in 2-gallon pails.
How Not to Do a Recessed Window
We see a lot of recessed windows in my area in Austin, Texas, particularly on Tuscan-style or Spanish Colonial homes where the windows are recessed to give the impression of an extra-thick masonry or adobe wall. Nearly all these homes are wood-framed and have stucco exteriors that wrap back into the window well.
Recessed windows are basically a set of two window openings—a larger opening that returns into the wall to a second, recessed face, in which you have the window rough opening. The way builders typically detail this stepped opening is shown in the photos. First, they install a peel-and-stick membrane (or worse, a laminated-plastic-and-paper flashing, which doesn't hold up well to UV light and usually begins to deteriorate before the job is completed). The jamb flashing is folded around all the corners and crevices in the recessed window well. Then, whatever WRB is used on the walls is folded back into the window well after the window unit has been installed.
Often the window is left like this for the stucco crew to pin down the flaps with lath. Sometimes it's taped off with sheathing tape, or occasionally another layer of peel-and-stick is applied to cover the window flanges and lap out onto the face of the sheathing. But no matter how many layers are piled on, there are going to be myriad gaps—and probably reverse laps as well.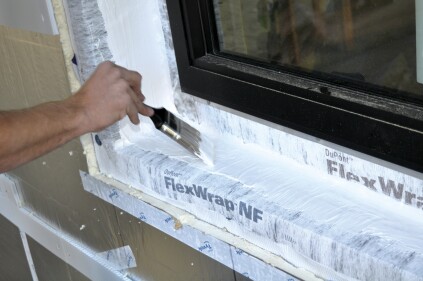 Getting Recessed Windows Right
The first time I used a fluid-applied water barrier, I was building a house for which the architect had specified deep window recesses. In the past, I'd used DuPont FlexWrap for these tricky waterproofing details. DuPont has good instructions, but even for the most astute installer, the origami can be confusing. So, I asked my local DuPont rep to meet me on the jobsite to show us how its fluid-applied flashing materials worked for a recessed window.
DuPont makes three viscosities. The thinnest (runniest) is a fluid-applied weather barrier that is meant to be sprayed on the bulk of the building's field. We haven't used this product, only the two fluid-applied flashing formulations—the thicker, higher-viscosity Flashing and Joint Compound and the thinner Brush Formulation, which feels like a slightly thinned latex caulk. Neither of these liquid materials will stick to any Tyvek building wrap, so all the transitions from the wrap need to have either FlexWrap or StraightFlash as a bridge. We used FlexWrap for the outermost portion of the window as usual, then gunned a heavy bead of the joint compound into the corners. We followed this by applying Brush Formulation, which comes in a quart tube, squeezing out a zig-zag bead and painting it out on the jambs, head, and sill. I was amazed at how easy these products made what is otherwise a very difficult detail—no more folding flexible flashings into corners and hoping the installers got the overlaps correct.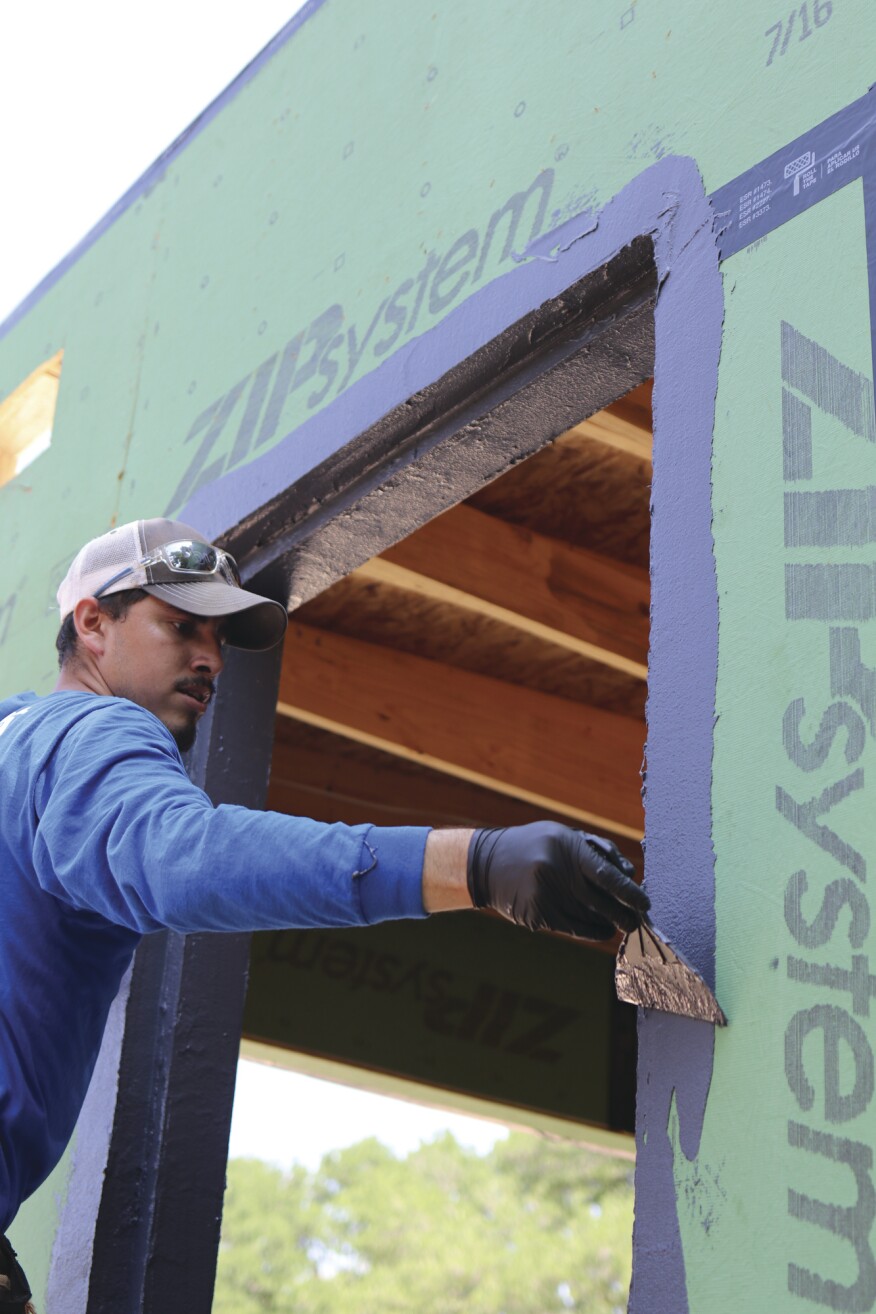 Recently, I drove by a house under construction, and as I always do, I slowed down to scope it out. On that project, the builder was using the Zip System for his sheathing and weather barrier. And like so many houses around here in Austin, it had recessed windows, but it was a fairly modern design and had almost no roof overhang.
I work only on architect-designed homes and have done my share of modern homes with no overhangs. A deep, 2-foot roof overhang will do a good job at shielding (and shading) windows, and I think deep overhangs make the most sense in our climate. But when you build for architects, you have to respect their design decisions, which are often driven by a wide range of factors that appeal to the owner, and climate is almost never one of these. Our job as builders is to just make the design work.
I could see right away on this build that the windows were not being done very well. The builder was using a paper-and-plastic-laminated flashing that is not very sturdy to begin with, and that disintegrates rapidly when exposed to UV light. I see it used all over the South. On this job, as is common practice on windows, it was just stapled to the jambs before the window units were installed. My guess is that the builder was just going with what he'd always seen done; I doubt he was trying to be cheap. In our area, the weather barrier and the window flashing are usually done by the framing crew, and unless you work with your subs on specific detailing practices, they are, understandably, going to do what is most commonly done.
I decided to approach the builder as humbly as I could to introduce myself and tell him what I have learned about flashing recessed windows. Surprisingly, he was very receptive to hearing me out and seemed to appreciate the insights I had to offer. Because I was working on this article, and wanted to use the example in my video blog, I offered to bring my own framing crew over to demonstrate two different products I had samples of—Polyguard Blue Barrier system and Huber Zip System Liquid Flash. As long as the builder would let me film and photograph the demonstration, I didn't mind paying my sub a little extra for the job. The photos above how we applied the two different flashing systems. For more, see the video linked below. After the windows are installed, the flanges will be coated with more Liquid Flash.
Way of the Future
I've been following the research at the University of Texas Construction Science Durability Labs, where multiple samples of all types of WRBs and flashing compounds are undergoing durability testing. The products have been installed on test racks and exposed to the elements for more than two years. For me, the big takeaway from this research is that fluid-applied and adhesive-backed WRBs along with thick-mil fluid-applied WRBs and flashings are the future of water control in our industry. They're easy to apply and they eliminate the potential for reverse laps. And as important, the testing shows that they hold up better over time, even when exposed to UV—which is a big deal in our climate. On big jobs that take a long time to finish and when subs are busy and take a while to get to a job, the water-control materials are exposed for extended periods. This is why I have become a big fan of Polyguard AlumaFlash, which can be left exposed indefinitely, and of the thick-mil fluid-applied materials that are formulated for the commercial markets to resist UV light much longer than residential-grade materials.
Fluid-applied flashings cost a lot more than your average peel-and-stick. We're paying around $27 for large cartridge tubes; the Zip System Liquid Flash costs on the order of $36 per cartridge. But with it, we don't need to put the highest-paid carpenter on the job. And when I asked Jeremy Martin, a fellow builder in the Austin area, about this cost, he said about a recent job, "I didn't even consider the cost. My client is an attorney, and I know that one leak would cost 50 times what the initial cost for the fluid-applied will be." Aside from the cost of dealing with a leak down the road, the peace of mind alone is worth it.