In our first issue this month, Coastal Connection visited a job site in rural Maine to follow the action as Jesper Kruse and the crew of Maine Passive House framed a two-pitch cathedral roof system with wood I-joists (see: "Framing a Two-Pitch I-Joist Roof," October 13, 2014). Last week, we went back to the site to see the crew attach an I-joist buildout to the building's walls, forming a wall cavity for super-insulation that matches up with the I-joist roof (see Slideshow left).
Kruse's company specializes in custom Passive House houses, designed to meet the Passive House program's strict limits on heating and cooling energy use. The architect for this project, Eric Sokol of Winkelman Architecture in Portland, Maine, didn't draw the original building plans with Passive House detailing, but Kruse said Sokol liked the idea right away after Kruse proposed it, and was easy to work with. "I just showed him my typical set of details and explained how we usually do it, and he came back with drawings that applied our usual methods to this building," says Kruse.
The homeowner also was open to Kruse's standard Passive House pitch. "I told him that the Passive House methods would add about ten percent to the cost of the project, and that it would cut his heating and cooling bills to almost nothing and give him a more comfortable and healthier house," says Kruse. "I find a lot of people are willing to go for that."
This house won't quite meet the Passive House performance criteria, Kruse says. That's a result of several design choices by the owner. In particular, the interface between the occupied space and the unheated garage below will be tough to detail. However, Kruse says that the window choice was a bigger factor. "The owner went with Marvin triple-glazed casement windows," says Kruse. "I think we might have been able to hit Passive House if he had chosen some European-made Passive House windows instead."
But Kruse is sympathetic with the owner's choice. The owner has been burned before: in a previous renovation for a different house, the owner chose high-performance super-windows made in Canada. Five years later, the seals had failed on the windows, and the manufacturer had gone out of business. "He's more comfortable that the Marvin windows are reliable and that Marvin will be around to back them up if there's trouble," says Kruse. "It's understandable."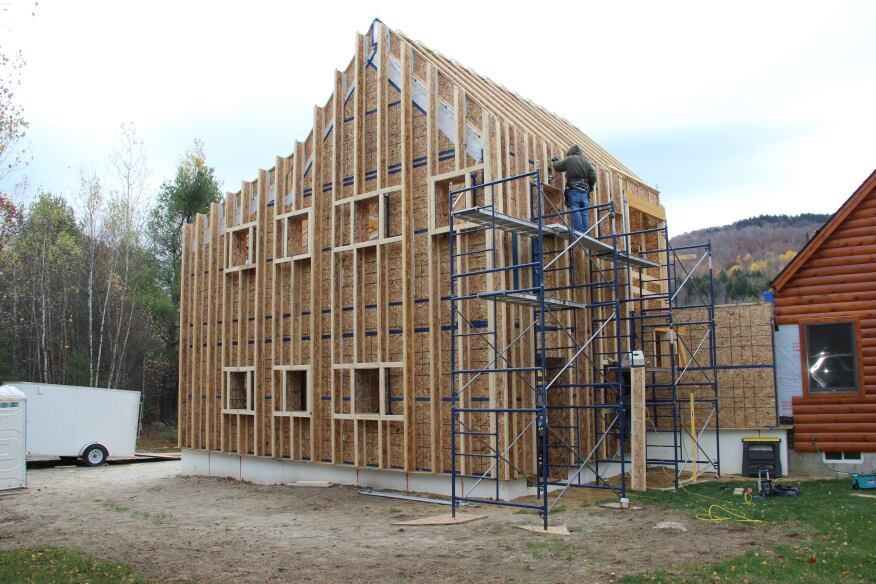 In any case, the difference is somewhat academic. The Passive House spec is for heating and cooling requirement of 4.75 Btu/sqft; this project will come in closer to 8 or 10 Btu/sqft, Kruse calculates. But the house can still be heated and cooled with a small air-source heat pump instead of a furnace or boiler, and the energy bills will still be microscopic compared to a typical home's costs.
The Passive House standard also calls for indoor window surface temperatures within 4°F of the room air temperature, Kruse notes. That's partly to ensure the comfort of occupants, but it's also intended to prevent the creation of convective air currents near the cold windows in winter, which can set up a heat-loss loop at that location. The Marvin windows may exceed that temperature difference on the coldest days. So Kruse plans to install some electric baseboard heating elements under some of the windows in case the backup is needed during severe weather.
But the house won't be occupied full-time, notes Kruse, because it's a vacation ski lodge (you can see the slopes from the south windows). Pursuing full Passive House compliance in a house that won't even need to be heated every day would be a little extreme, he says. There's a serious practical discussion among high-performance builders about whether insisting on Passive House compliance is worth the expense in every case, he points out. In this situation, he's happy to compromise. "It's still way, way better than it would have been to build it with just 2x6 walls," he says. "And once they get in there, it's going to be so warm and comfortable, I'm sure they'll be happy with it."