If you've used an auto-feed screw-gun extension, you'll find that the Simpson Strong-Tie Quik Stik is the same idea, just upside down. And it drives 6-inch structural screws into top plates, and works for trusses and rafters. It's awesome.
As hardware requirements continue to increase with each code cycle, manufacturers are stepping up to provide alternatives to speed up installation and still meet code. So, if I can use a structural screw instead of straps and nails, I'll choose that every time. Structural screws install quickly, require few tools, and hold fast.
You're still up and down a ladder, though. With the Quik Stik, however, I found not just increased installation efficiency but time and effort savings throughout the supply chain. Here's what I mean.
Benefits. First, structural screws install twice as fast as an H1 or H2.5a hurricane clip and here the Quik Stik showed up for work, enabling us to make reliable and fast connections in various plate and rafter configurations.
Because it requires just a ¼-inch hex impact driver, which we all have (I used the first generation Bosch Freak with no problems), I don't have to drag out hoses, nailers, boxes of nails, and so on. Time and effort saved.
The screw this tool is designed for is the fully threaded 5 ¾-inch Strong-Drive SDWC. It has what I call a "cap-style head" that countersinks into the plate and won't affect finishes by remaining proud of the plate after installation. Bright orange, it's easy to spot for inspection—or just to see if you missed one. There's also a 4 ¼-inch screw for other connections.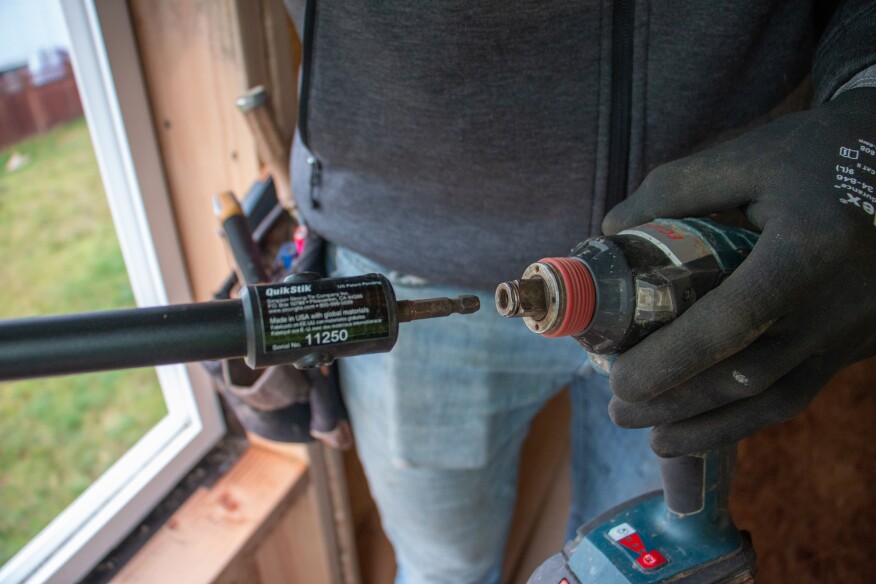 Safety and efficiency. A safe jobsite is based on the Hierarchy of Controls. While this may sound like the title of a spy movie, it basically means that whenever possible, we seek to eliminate a hazard. If we can't do that, we try and replace that hazard by doing something differently. Working at heights and falls from ladders account for a high percentage of injuries, and using a Quik Stik sidesteps that hazard by enabling us to make connections without leaving the floor or climbing outside the building. Quik Stik either eliminates or reduces the need for ladder work for fastening roof framing to top plates. That's a big deal.
This also further streamlines the workload: There are no ladders to unlock, take out, move 500 times, put away, chain back up, trip over, or fall from.
Details. The bit holder is at the end of the extension arm, of course. The arm has angle guides, a detachable bubble level, centerline guides and positioning prongs. Read the manual to see how to use each of these for proper screw placement. These fasteners rely on proper angles to meet the specified loading tables. We found various connections quick to make with the Quik Stik guides. It was easy to install to about 10 feet without ladders. Again, that's a huge time savings for us.
Codes. Some municipalities may not be familiar with screwing rather than strapping and nailing roof framing. To streamline this potential hiccup, we added a detail to our blueprints that includes the catalog pages from the fastener manufacturer. This way it's stamped when the inspector comes out and there are (ideally) no surprises. And if the detail is new to the inspector, it starts a dialog early in the process.
Cost. I found the kit online for $170. This includes a carrying case for easy storage. To me, this is one of those "no brainer" products. It's inexpensive and improves productivity and promotes safety without any hassle.
And, structural screws are also slightly less money than clips and nails, and who doesn't like that?
More about Simpson Strong-Tie Co.