One of four tools in our test of 18-volt cordless oscillating multi tools (OMTs), this model is Makita's second and latest in this category of these useful cutting, sanding, and scraping tools. Makita sells blades under their own brand name, compatible with Bosch "OIS" style blades that are also available from a variety of brands.
Makita XMT035 Specs
Battery: 3.0 Ah
Battery gauge: None
Weight: 5.0 pounds
Oscillations per minute: 6,000-20,000
Angle of oscillation: 3.2 degrees
Special Features: Decoupled battery design
Price: $318
Includes: Tool, 2 batteries, charger, 1 blade, sanding pad, sandpaper x10, 2 blade adapters, accessory case, plastic kit case
Also available: XMT03Z (tool only) $119
Country of origin: Tool China; battery assembly China
Comments and Ratings
Good to Very Good overall; Mass equals stability in tools made to vibrate, but while sturdy and effective, this tool carries a weight and girth penalty. In fact it's the heaviest OMT we've ever tested—corded or cordless.
Ergonomics
Switch: Very Good; Well placed, properly recessed out of the way, and easy to operate even with gloves on.
Speed dial: Very Good; Within easy reach and away from the main grip area.
Grip: Fair; Not enough rubber grip surfaces, most notably around the sides and bottom of the rear hand grip area. The body is also extra wide there which makes holding onto this heavy tool even more difficult.
Vibration
Very Good to Excellent; Very low, mellow felt vibration. Multiple battery bumpers and decoupled battery design do a very effective job of minimizing vibration.
Features
Decoupled battery, low-battery warning light, slow-start.
To remove the blade, you first flip the spring-loaded lever on top of the tool up to release the clamp tension and then pull out the blade-clamp pin. To adjust the blade position, you only need to pull out the pin partway until the blade is loose enough to rotate into position on the raised "nubs". Unlike other new OMTs on the market, the lever on this does not have a dampened spring action and it can "mousetrap" forcefully on your fingers.
Securing the blade takes two hands. You have to hold the blade-clamp pin in while pushing the lever down all the way.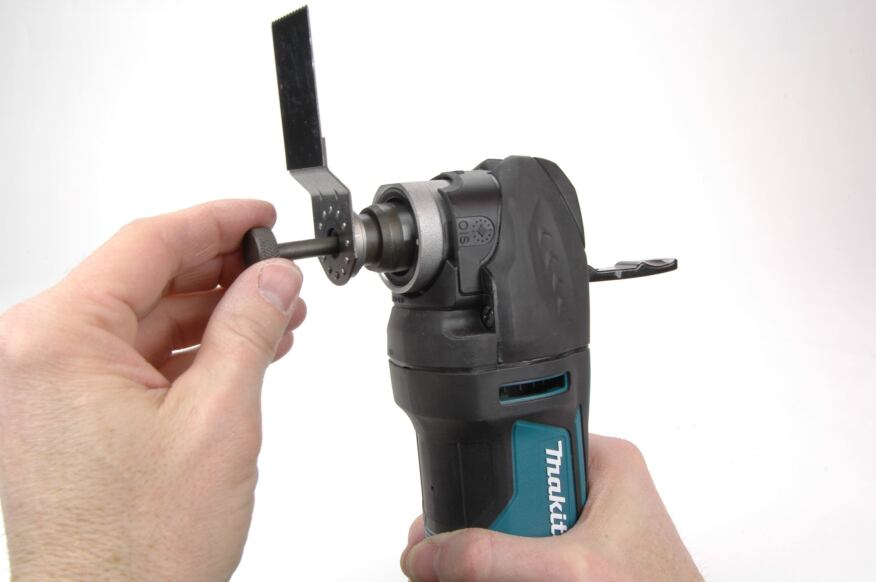 Having a loose blade-clamp pin that has to be removed is not as easy to deal with as pin-less designs, but it's easier to use than those with bolt-on blade attachments. The benefit of this simple design is that it allows you to use the two adapter plates included by Makita for maximum flexibility in fitting a variety of blade styles.
Note the white and black bumpers at the attachment point for the tool's battery. Some other OMTs incorporate this feature now but Makita was the first brand I noticed using rubber bumpers to reduce battery-buzzing vibration on select cordless tools. When designed well, this minor feature delivers big results by reducing the vibration and noise caused by a loosely held battery. Besides being annoying, this vibration at the far end of the tool saps some of the tool's effective strength by putting energy into moving the battery instead of just the blade.


In addition to the simple battery bumpers, Makita implemented a decoupling system to further reduce their tool's vibration. With a break in the rigid body of the tool and suspension features built into the internal connection points, the mass of the battery is effectively isolated from reacting to the movement at the business end of the tool. This advanced feature (along with the extra weight of the tool) makes Makita's OMT very low in vibration.
The main story and detailed reviews of the other models tested can be found by clicking the links below.Main Story
Bosch MXH180BL
DeWalt DCS355D1
Milwaukee 2626-22
Fein's 14.4- and 18-volt models haven't changed since 2012 and can be found in Full-Size Oscillating Multi Tools in the summer 2012 issue of Tools of the Trade. Note: Some of the other tools in the 2012 story—including the cordless tools from Makita and Porter-Cable—are not their companies' newest models.
More about Bosch Power Tools
More about Fein
Find products, contact information and articles about
Fein
More about Milwaukee Electric Tool Corp