For most of my career, I didn't own a dust extractor and worked in what can only be described as a dust storm, and it has taken a toll on my lungs. No one I worked with ever told me (I'll assume they never knew themselves) that wood dust has detrimental health effects.
For the longest time, even OSHA classified wood dust as a nuisance dust (not anymore). And the OSHA website still says, "The extent of these hazards and the associated wood types have not been clearly established."
Add to the mix that most carpenters consider sawdust as "man glitter" and a dusty badge of a tough guy. We never gave breathing in "natural" dust much thought. You know the natural stuff, free from harmful chemicals (well, except plywood, but we ignored that aspect).
The horrifying problem is that we were wrong; sawdust has life-shortening consequences. When I struck out on my own and started building more complex cabinetry, I did finally started wearing disposable masks, at least.
A couple winters back, I spent two months building cabinets in a client's closed garage (with plywood) using a regular wet-dry vac on my table saw, but spewing dust with everything else. Over those two months, I had multiple styes (painful clogged pores along the eyelids) and developed a terrible cough that persisted throughout the job and the month after. The cumulative effects of my cowboy ways had caught up to me.
About that same time, I was seeing more and more about a certain German tool company designing its tools from the ground up with dust collection in mind. Its emphasis on the harmful effects of dust led me down a rabbit hole of online information. I read posts from other carpenters who had bought into the platform for the betterment of their health, if nothing else. Then, one evening, through online camaraderie, a friend (and fellow Tools of the Trade author) Ben Bogie referred me to a website from a man named Bill Pentz, inventor of the Clearview dust cyclone system, and an authority on wood dust by all accounts.
It was there I learned the difference between collecting visible dust versus fine dust, and how even though my wet-dry vac took care of most of the visible dust, the airborne stuff would linger for hours, if not days, after. Any ray of sunshine through the window lights it up, and that's the stuff we need to avoid the most; it's devastating over time.
Bill describes looking at a fine dust particle under a microscope and being able to see barbed edges on it. These barbed edges make these particles difficult to dislodge from our lungs and the cumulative effect is bad news. Pentz goes on to cite medical research showing that all woodworkers exposed to fine dust on a daily basis will lose 1% or more of their lung function every year. Those having prolonged exposure and high concentrations in their jobs may see more severe results.
Are you depressed yet? I was.
Dust Extractor
I didn't have a shop then and was subject to the limitations of my jobsites. Research told me I needed a portable dust extractor (specialized vacuum), preferably having a HEPA certification. I bought two of them within a year, one orange and one green and both rated for about 150 cfm. These are more than adequate and shine with handheld tools, such as sanders, grinders, track saws, and drills. However, when hooked up to tools like table saws, router tables, and others that require high-volume extraction, they just don't cut it. When I saw the Bosch GAS20-17AH with an advertised diesel cfm that doubled my current extractors—300 cfm from one machine—I knew it was what I needed. Not cheap, but needed.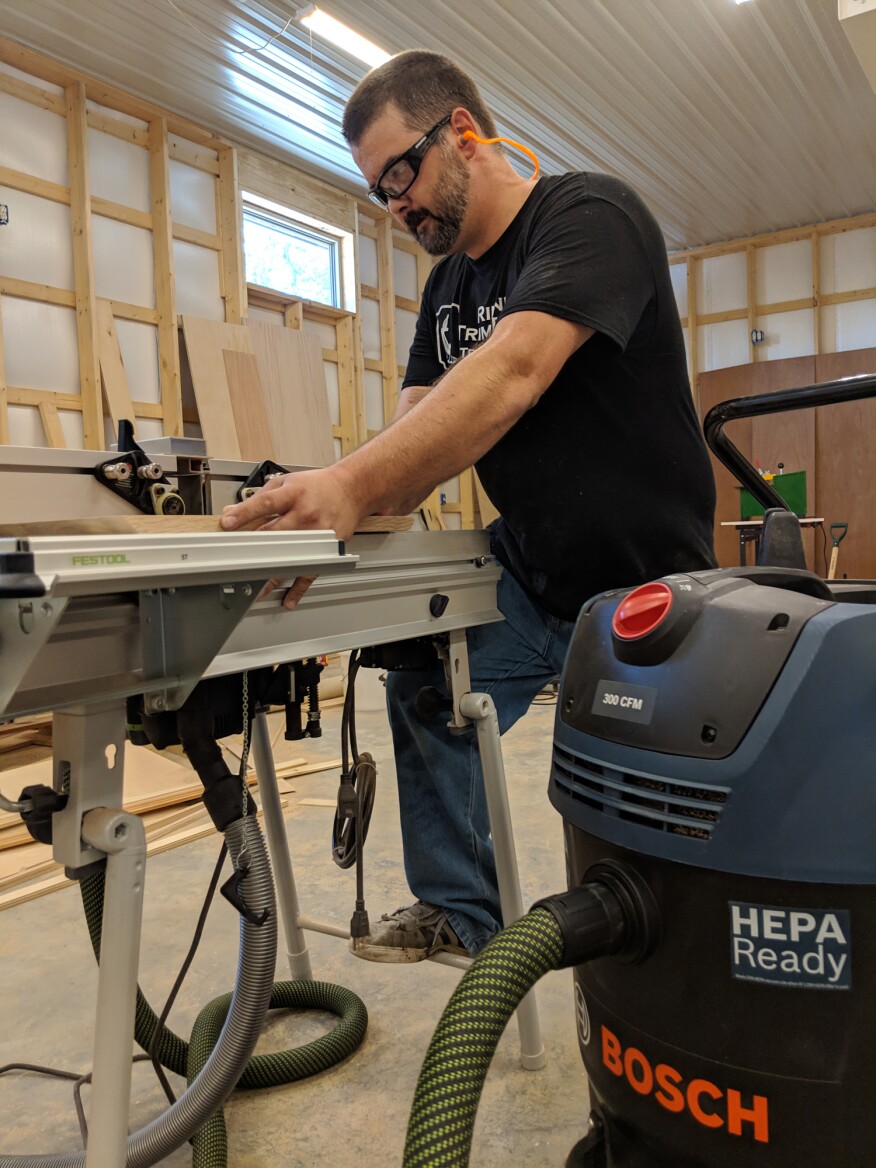 The first thing you'll notice about the Bosch is its size. It's the only unit I own that I needn't bend over to turn on because its power switch is above my waist. The motor and body are swivel-mounted on a heavy-duty frame that allows the collection bucket to be unlocked and tipped for emptying. This is a great feature if you have an area to dump it in.
For its size, its surprisingly maneuverable. It's easily guided by tugging on the hose. This is due to the oversized (they're the biggest I've seen) rear wheels and swiveling front casters. Given its stout design and large footprint, there's next to no chance of knocking it over. The tubular frame extends well past the top of the vacuum to act as both a cord minder and a top-handle. And, as if being built like a tank wasn't enough, Bosch molded dual cup holders into the top of the motor for those who like to keep refreshments at hand.
Another great design feature is the ability to change filters externally. Simply lift a lever on the back and pop open the hood. Why this isn't standard on all vacuums is beyond me. I'm happy to report that using the auto-clean mode in combination with my Dust Deputy cyclone has kept my filters virtually spotless. I can pull either of them out, slam them onto my bench, and little if any dust will come out. While auto-clean alone can't keep up with straight-on dust, filters are expensive and every little bit helps to extend their service life.
Worth noting: When using the extractor in auto-clean mode, you'll hear three bangs every 15 seconds. This is normal. The vacuum is shaking the filters and sending air back through them to remove particles. The first time I heard it I thought I had a lemon! Also, regardless of what mode you have it running in, when you power down the unit, it sends one loud and final blast of air through the filters for good measure.
Bosch designed this extractor to be a powerhouse. It's rated at 17.5 amps and is wired with a true 20-amp plug. This could be problematic in older homes with 15-amp service. I suppose you could get an adapter, but I am overcautious with my tools and won't risk underpowering them. So when I'm out looking at jobs, I take note of the power situation and plan accordingly. Most of the time, though, I work in my shop so it's a non-issue for me.
Another point worth noting: There's no built-in auto start outlet (aka "tool trigger"). I have a feeling it's because of its power consumption being too high on its own. Bosch's smaller extractors have them.
The included 16-foot 35mm hose is great for handheld tools. It comes with a reducer that brings the inlet down to about 27mm, making it a perfect fit for the standard dust ports on modern tools.
Instead of having a suction control collar on the extractor itself, Bosch opted for putting the adjustment on the end of the hose closest to the tool. Similar to other manufacturers' designs, the collar opens and closes to control the amount of suction allowed to reach the tool. This is important for tasks such as sanding because too much suction will down-draft your sander to the work surface. That causes premature wear on the sander head and intensifies the swirl marks it leaves behind.
One of the reasons for the big power is that Bosch designed this extractor with the concrete industry in mind. It can be used with two 9-inch grinders simultaneously (using an optional accessory and second hose) all while delivering an OSHA-compliant 150 cfm to each unit.
I find that using the extractor with bigger woodworking tools, like my table saw (see Nathan's review of the Metabo HPT MultiVolt table saw here) and router table, I get better performance switching to one of my own hoses, with a 36mm I.D. with a 39mm I.D. fitting. The slightly larger aperture restricts flow just that much less than the factory-supplied adapter. For tools that produce copious amounts of dust, unrestricted high-volume suction is best.
This is a rather large extractor so make room for it in the truck. It is well designed and built. It's a unit that I have come to favor for heavy-duty tasks and is an awesome addition to my sites and my shop.
$1,500
Photos by Nathan Rinne
More about Bosch Power Tools