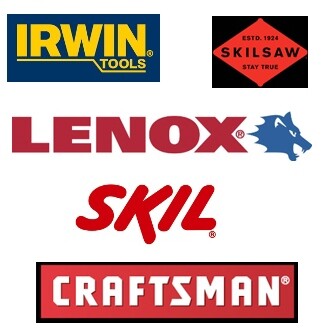 Newell Brands decided to get out of the tool business and is shopping Lenox, Irwin, and Hilmor. Sears Holdings Corp is shopping its Craftsman tool brand and is said to be discussing a sale with SB&D and TTi. And Bosch recently agreed to sell the Skil and Skilsaw brands to Chervon.
What does this mean for tool users? In the short term, not very much—tool brands are bought and sold all the time and it can take years for new owners to revamp or reposition product lines. I have no inside knowledge on the sale of these companies but am willing to speculate about what they might mean.
Lenox

Lenox American Saw is best known for the recip blades, hole saws, and band saw blades it produces at a 500,000-square-foot factory in East Long Meadow, Mass.
Readers commenting on a Mass Live article about the sale expressed concern that the buyer would close the plant and move production to China. That's impossible to know without knowing the buyer, and the cost pressure to offshore production is less than in previous years. In spite of the wage differential between the U.S. and Mexico or China, a number of companies continue to produce pro-grade recip blades and hole saws in this country, including Milwaukee (Greenwood, Miss.), M.K. Morse (Canton, Ohio), and DeWalt (Shelbyville, Ky). Diablo's recip blades are produced at a Bosch plant in Switzerland—proof that the wage rate is not the sole determinant of where blades are made. Lenox might be a challenging purchase for a company that already makes recip blades, because it has an unusual production process. Most manufacturers of recip saw blades cut steel into blade-length pieces before grinding or machining the tang and teeth. Lenox is a major producer of bandsaw blades so it's set up to cut teeth into long strips of steel. When making recip saw blades, it mills teeth first and punches blades out later.
Irwin Tools

Originally known for its drill bits, Irwin has become a family of brands that includes Vise-Grip, Marathon, Quick-Grip, Speedbor, Straight-Line, Marples, Unibit, and Hanson. The company is headquartered in North Carolina but most of its tools are produced overseas. Its recip saw blades, though, are made at the Lenox plant in Massachusetts.
Craftsman

In need of a cash infusion, Sears Holdings is said to be shopping some of its brands, including Kenmore, DieHard, and Craftsman. No factories will change hands if and when Craftsman is sold because all of its tools are produced by outside manufacturers (OEM). SB&D (DeWalt, Porter-Cable, Bostitch, B&D) and TTi (Milwaukee, Ryobi, AEG) are said to be interested in purchasing the brand—as are Apex Tool Group and Husqvarna. I can see why they might be interested. Craftsman is an iconic brand and could be reinvigorated by a smart buyer willing to invest in it. And if Craftsman is sold to a tool company, that company will be able to take business from OEM manufactures by shifting production of some Craftsman tools to its own factories.
Skil and Skilsaw

Bosch recently agreed to sell Skil and Skilsaw to Chervon, an OEM/ODM manufacturer in China that few in this country have heard of. But if you have followed tools for a while you will have seen some of theirs carrying the labels of Kobalt, Craftsman, Bosch, DeWalt, and other brands. Chervon owns several power tool brands of its own, including Flex (sold mostly in Europe), Devon (aimed at the pro market in Asia), and Ego (a new brand of OPE sold in Europe, North America, and Australia). It will be interesting to see if Chervon expands on the recently created Skilsaw line, which contains pro-grade circ saws, wormdrives, and a benchtop table saw—but no other tools.