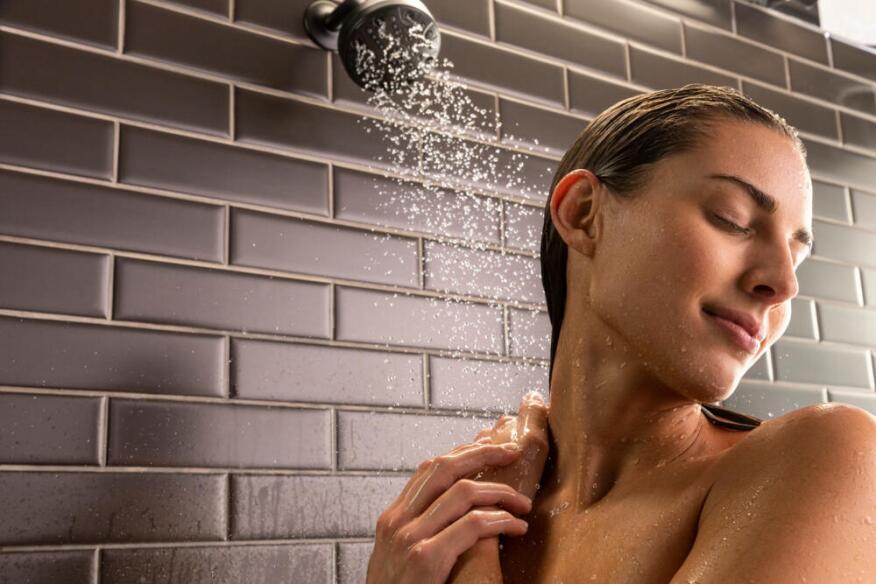 PRIORITIZE WATERSENSE LABELED FIXTURES
Water scarcity in the U.S. is a growing problem that is increasingly difficult to ignore in most regions of the country. Research from Colorado State University suggests that water yield, climate change and population growth in the U.S. are likely to present serious challenges in the future specifically in the central and southern Great Plains, California, Southern states and Midwest. As it relates to the home, according to the EPA, the average family spends more than $1,000 per year in water costs, but can save more than $380 annually from retrofitting with WaterSense labeled fixtures and ENERGY STAR certified appliances.
Luckily for contractors, many Peerless Faucet's bath fixtures are proudly WaterSense labeled, which denotes the fixtures use at least 20% less water than the industry standard without compromising performance. Take the brand's new 5-Function Shower Head with POWERush for example. This showerhead uses larger water drops in a unique wave pattern for a more drenching sensation. With this technology, contractors can promise a spa-like experience, without increasing overall water usage.
Other water saving tips contractors can look into and advise their clients on include:
Grey water reclamation - This process capitalizes on the water's potential to be reused versus dumping it into a sewage system.
Rainwater harvesting – A simple, effective way to conserve water via a commercially viable payback period.
Size distribution piping appropriately - Not all supply piping needs to be ¾-inch diameter, and small diameter piping will carry a smaller volume of water to fixtures faster, so there is less waiting for hot water. Minimizing the number of branch lines and keeping fixture branches as short as possible will also help to reduce the wait for hot water that wastes water. (For more on right-sizing water supply, see "Efficient Hot Water Piping," JLC Mar/2013.)
Leak proofing/repair – Simple design modifications include checking water usage through metering and submetering.
MAKE THE DURABLE, FUNCTIONAL CHOICE
Fixture quality and durability is something contractors should prioritize to avoid replacement hassles. With a flow rate of 1.5GPM and 360° swivel and pull-down, three-function sprayer, the Peerless Parkwood Single-Handle Pulldown Kitchen Faucet delivers attainable functionality. To ensure a long product life, this faucet includes a ceramic disk valve, and it's also equipped with supply lines meaning one less joint to worry about on site.
Whether you're a self-made developer, working contractor, or simply interested in getting into the business, understanding the above plumbing trends and products specs will help assure a fully functional multifamily project for all parties.
For more information about Peerless and its multifamily project offerings, visit www.peerlessfaucet.com/faucet-professionals or follow Peerless on Instagram, Facebook, or Pinterest.