For the past year or so, my company has been installing a new decking product—called Millboard—that we feel is the most realistic-looking synthetic deck board on the market today. Our clients seem to agree with us: We built about 175 decks last year, and for around 75% of those projects, the owners chose Millboard over other composite and wood decking options.
The project featured in this article was located in Shoreview, Minn., a northern suburb of Minneapolis. The climate is challenging, with sweltering summers and frigid winters filled with ice and snow. In our experience, Millboard responds well to the swings in temperature and humidity in this area, offers great traction even when wet, and stays cooler underfoot in the summer than other manufactured decking we've used.
Prominent grain. Millboard decking is manufactured in England and distribution is limited; we source our decking directly from Outlive, the sole U.S. distributor. While we can bring samples of the decking to show potential clients during sales calls, there is also a local showroom in St. Paul where the range of Millboard decking products is on display. Millboard is comparable in price to most manufactured decking offered in our market.
At its core, the decking is a nonporous blend of minerals and polymer resin, with characteristics similar to those of other types of composite decking. The difference is in the surface texture, as the boards are molded rather than extruded. Because the molds are cast from wood boards one at a time, there can be slight dimensional variations from board to board, but the resulting grain and texture is unmatched by any other decking that we've installed.
For this project, our clients chose antique oak from the company's "Enhanced Grain" collection, which is patterned with prime oak boards. Boards in the "Weathered Oak" collection have deeper graining and a rougher texture. Slip-resistant decking with integrated grip strips is also available for use around pools and on walkways.
Steel framing. We framed the deck with Fortress Evolution steel framing, an upgrade that we encourage, and that most of our customers opt for. With possible beam spans up to 20 feet and a contemporary painted black finish, Evolution framing was a good fit for our client's large, elevated deck, which overlooks a backyard pond.
Evolution framing comes configured for joists on either 12- or 16-inch centers, spans that match up well with the requirements of our decking offerings, including Millboard. When Millboard is installed over a steel frame, however, the company's Plas-Pro recycled-plastic subframing material has to be mounted to the sides of the steel joists so the decking can be properly fastened with the manufacturer-recommended screws and maintain the warranty.
Installation. Before we found Millboard, TimberTech Azek decking had been the primary material we worked with, and the installation processes for the two are similar. Millboard is comparable in weight to most other manufactured decking, and the longest length available is approximately 12 feet. The material is easy to cut with standard tools, and though the boards are shorter in length than most other manufactured decking on the market, they are also slightly wider—150mm, or 5.9 inches wide, by 32mm, or 1.26 inches, thick—than standard decking.
For edges, the manufacturer offers a 2-inch-wide board with either a square edge or a bullnose profile. These boards are flexible enough to bend around curves with a radius as small as about 4 feet. The company also has a standard-width (150-by-32-by-3,200mm) deck board for stair treads, with a bullnose profile along one edge and a thicker Lastane surface to resist impacts. For fascia, there's a thinner, 146-by-16-by-3,000mm fascia board. This board is also flexible enough to bend around a 4-foot radius.
Hidden fastening. While many companies offer hidden fastener systems, Millboard doesn't require clips or slots. Instead, the boards have a "self-healing" Lastane rubber top coat; fasteners are driven through the face of the boards, and the screw heads are buried beneath the surface, leaving a barely visible witness mark behind. We use the recommended Durafix stainless steel screws offered by the manufacturer, coating them with a silicone spray (again per the manufacturer's recommendation) prior to installation, no predrilling required.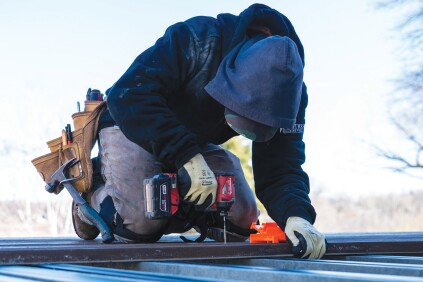 Boards can also be edge-fastened, using the company's DuoFix guide. Millboard offers decking spacers to ensure equal spacing throughout the deck.
Cutting and touch-up. The boards don't require any special handling or tools. We have had no problems with scuffs or blemishes from shipping to date. To prevent damage during construction, we locate our cutting station away from the deck. This helps keep the dust from blowing onto the deck—though if dust or dirt does get on the surface, it washes off easily with a hose.
A thick, matching touch-up paint is sent to each job to paint and cover all cut ends. We also use it to coat edge cuts. ❖
Photos by Noah Lindus.