All contractors deserve to earn a profit and cover their overhead, just as all clients deserve 100% transparency in how their money is spent. For me, cost-plus pricing is the best way to provide both for nearly all residential and small commercial construction projects. Before I get into how it works, I'll share how I got here.
I live and work in Newburgh, N.Y., home to the second largest historic district in the state, about an hour north of New York City. I run a small, five-person design-build company that does interior remodeling, custom cabinetry, additions, historic restoration, and retail build-outs. Like most contractors, I began my business working in the confines of fixed-price contracts. Because much of my remodeling work is in older homes that often have hidden conditions that are hard to predict, estimating can be difficult. But many clients expect the contract price provided at the beginning of a job to be its final cost, despite unforeseen issues; negotiating change orders can be dicey, as they are basically smaller fixed-priced contracts tied to specific issues.
After a few years of working with fixed-price contracts, I began to realize just how easy it is to miss things when preparing an estimate. It's a fair assumption that most if not all builders have experienced the anguish of discovering they forgot to include something but being reluctant to ask the client for additional money. A large enough error can impose a significant financial burden on a builder, particularly one who's in the early stages of establishing a business.
Adding to that challenge, as builders and remodelers, we work in a highly unregulated industry, with practices varying state to state, county to county, and even town to town. Some contractors even guess on pricing or give single-line prices for complex jobs. Unfortunately, contractors are often hired on price alone, and not on their attention to detail, knowledge of building code, familiarity with best practices, previous client relations, and jobsite cleanliness. Also, many clients see unrealistic costs on home remodeling TV shows and Pinterest and expect, for example, a luxury kitchen to cost $15,000. All builders of quality have heard horror stories about low-price bidders doing shoddy work and unscrupulous contractors running away with people's savings.
A client must trust the contractor to provide a reasonable estimated cost and good-quality work, while a contractor must trust the client to pay them for services rendered. But commonly, clients are (or feel they have been) taken advantage of by an overcharging (and sometimes, underperforming) contractor. Similarly, some clients decide to not pay a contractor because they think the bill exceeds the value of the work. Neither scenario is desirable.
The question is, how do we change misconceptions about contractors, increase client transparency, and ensure that builders get paid fairly? The answer: Change how we structure our pricing contracts. This is where cost-plus comes in.
What Is Cost-Plus?
The full version of the term is "cost plus a fixed sum." It was first coined by engineer Frank B. Gilbreth in 1907 to describe how he structured his construction business. It has been implemented on many scales and was even used on U.S. government contracts with once small tech firms like Hewlett Packard (now HP) and Fairchild Semiconductor to bill the Department of Defense for research.
For construction, the structure of cost-plus is simple: The contract stipulates that the builder will work for time and materials plus a fixed percentage to cover management, overhead, and profit. For example, a builder would track hours, material expenses, and subcontractor and equipment costs, and then add a 10% overhead and management markup and a 15% profit markup. This means that the builder will always earn their burdened labor wage and the business will always be able to cover overhead and make a profit directly tied to the scope and cost of each project. Cost-plus can be scaled to small jobs with a single operator as well as to bigger jobs for companies with multiple, large crews.
I first heard about cost-plus from several large high-end builders on the Modern Craftsman Podcast (themoderncraftsman.org). After having some problems that resulted in my losing money on a job (forgetting one expensive window and dealing with unforeseen rot issues in a porch restoration), I decided it was worth trying.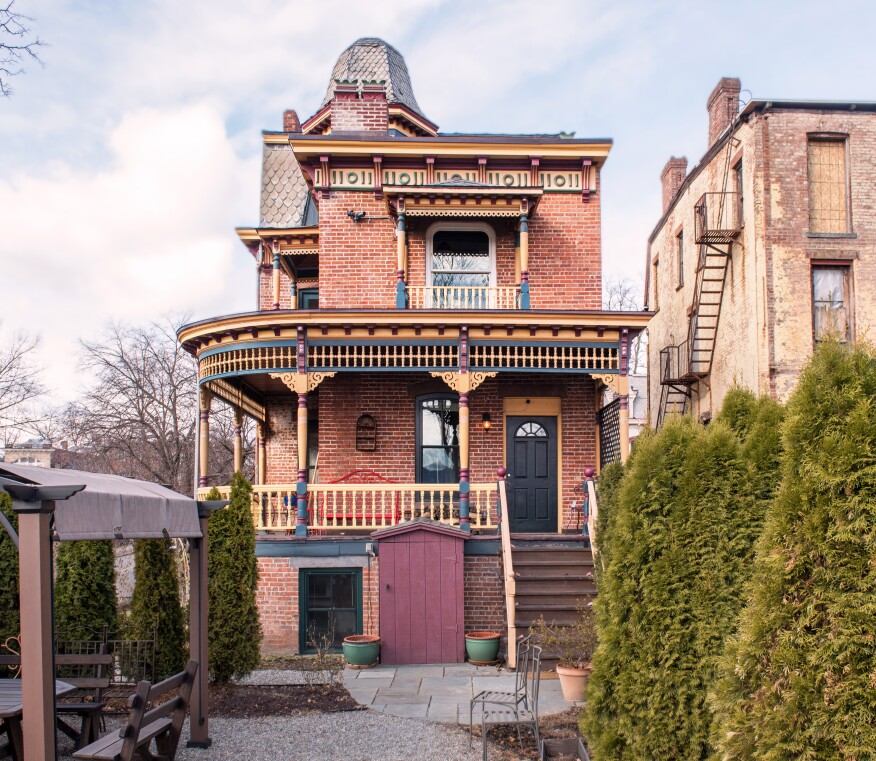 The transition took time—and over several months, I had to rewrite the information I presented to clients and create new systems for myself. As I went through the process of switching to cost-plus, I used the opportunity to develop a set of core values for my company: I want my company to do high-quality work and be paid for the time spent doing it. I do not want to rush myself or my team. I want our work to speak for itself. I also don't like bidding for jobs; instead, I want to be sought after and then become a client's contractor for life, cultivating a long-term relationship of mutual respect in which we are valued for our craft and professionalism.
Many clients (and contractors, myself included) find talking about money awkward. That also needed to change. The only way forward for me was to be 100% transparent when discussing anything financial, from what we bill per carpenter or helper to material and subcontractor costs. No type of contract will completely remove the awkwardness, but cost-plus puts it in the open. Some clients may push back, saying, "This isn't how my previous contractor worked," or "I want a fixed price," or "I haven't heard of this."
The hard truth is that it's not up to your potential clients to determine how you run your business; it's up to you, as the business owner. I find that most clients have no issue with cost-plus once they understand how it works. In fact, many prospective clients say, "This makes so much more sense!" If a client pushes back and asks you to change how you operate, they are probably not the right fit for you.
Business Overhaul
Cost-plus is just a tool, and like all tools, it is only as good as its operator. But it has the potential to be a great vehicle for ensuring transparency, financial balance, and shared risk on expensive construction projects. And when coupled with the business practices of client vetting, paid estimates, and paid preconstruction planning, cost-plus can be a catalyst for transforming your business into a successful one that runs on data rather than guesswork.
Client vetting. Somewhere along the way, I started to understand two key principles: Not everyone who calls me is a good fit, and if I look at a project, I should get paid for it. To help decide which clients are worth pursuing, I send a simple, 15-question intake form to prospects via email. It gathers basic information but also asks crucial questions like the following:

What is your budget range?
Have you done a renovation before?
Do you have an architect?
Are you interested in designing the project with us?
What is your timeline?
I am able to vet clients in 10 minutes sitting at my desk and save myself the headache of making a site visit and realizing that the budget doesn't fit the scope of work, or the timeline doesn't work with our schedule. If the responses indicate a project is worth pursuing, I move to the next step.
Paid estimate. The form indicates that I charge a $200 fee to do a site visit and provide a written ballpark line-item proposal. Before and during the site visit, I always explain how we operate.
Preconstruction planning. If we can agree on the ballpark line-item budget and a general timeline, and have a set of plans, the job moves to the paid preconstruction phase. In that time, we go through the plans with a fine-tooth comb, pricing everything from frame to finish. This includes selecting fixtures for pricing, receiving subcontractor quotes, and the like. Essentially, we run through the whole job on paper, while working together to make adjustments to maintain the bottom-line budget. This work is billed by the hour. Note: I have separate contracts for preconstruction and construction, in the off chance we don't perform the construction. It ensures that the planning service is paid for and underscores my belief that builders deserve to make a profit when they perform services for clients.
The budget document becomes a living reference for the job. Once construction starts, we track costs (man hours are tracked per category, such as framing or tile) and bill against the initial deposit. We provide real-time tracking to clients along with photos, daily logs, and schedules with construction management software. This transparency makes clients feel much more comfortable. A great selling point of cost-plus is that if things progress faster, they cost less and ultimately encourage efficiency on site. Cost-plus also ensures that detail-oriented and labor-intensive tasks are not subject to an educated guess of how long they might take.
One complaint I hear from clients about other contractors is a lack of communication. Cost-plus offers you the opportunity to brush up on your communication skills. It can be a lot to explain to clients in person, so I always follow up with an email after a site visit providing all the details. This also works in your advantage: You have your process outlined in writing should something go awry. (Though your preconstruction and construction contracts should be your legal fallback. Never enter any working relationship without the protection of a contract you've written and reviewed with an attorney.)
Since switching to cost-plus, the stress I used to carry wondering whether I made money has evaporated, replaced by the security of knowing we are earning the wages we want and my business is making money.
Once a job is complete, you can be sure it addressed both parties' interests. Another benefit of working cost-plus and tracking a job from start to finish comes in the form of hard data about the performance and costs associated with specific tasks. Comparing the initial preconstruction job estimates with subsequent tracking of job costs during construction highlights the accuracy or inaccuracy with which you understand your business.
Cautions
There are many reasons cost-plus contracts, preconstruction planning, and job-cost tracking make sense, but there are also downsides. The main one is an increase in administrative work—though this is work you should already be doing. In theory, a good businessperson is tracking these things within a fixed-price contract so they know when to request change orders. I initially used spreadsheets, emails, and note-taking software to manage cost-plus projects but recently started using project management software to do all these things with one cloud-based application. Once set up, this, along with an estimating program, helped me cut my administrative time to one or two days a week in the office.
With these systems in place, it's hard for me to imagine ever going back to fixed-price contracts. Cost-plus is adaptable: If I want to increase profits, I simply change my percentage. The same is to be said for increases in overhead costs or projects that require extra management. And in a changing industry, adaptability is key.