The use of R-value as a measure of the effectiveness of building insulation can create significant confusion, resulting in poor choices and wasteful consumption. Construction professionals and their clients need better thermal performance data and a more robust scale for comparing competing insulation products and product combinations. In this article, we review how insulation standards and regulations have evolved, explain strengths and weaknesses of the current model, and suggest how to provide industry professionals with better tools for supporting efficient buildings.
The R-value system originated in the United States in 1945 and was an important first step toward a science-based and standardized system for evaluating insulation products. As its use grew more widespread, it was eventually recognized and promulgated by the U.S. Federal Trade Commission (FTC), which continues to support the metric as an industry standard through regulation, referred to in the industry as the "R-value Rule." This regulation requires insulation manufacturers to disclose a product's thermal performance based on uniform testing procedures, and its stated purpose is to provide consumers with objective performance data to inform their purchasing decisions among competing products; indeed, insulation products in most markets overtly display the R-value rating.
However, the scaling metric of R-value is not optimal for understanding the practical efficacy of insulation or for comparing products, thicknesses, and product combinations. Additionally, the rating does not account for the effects of air leakage and other thermal losses. R-value as a metric is mathematically sound, as it measures an insulating material's resistance to conductive heat flow; the problem lies with what the R-value number means in practice. A building code may require R-15 insulation in walls, but that static rating communicates little about how well that R-value works against a standard or relative benchmark. Additionally, insulation products are rated across a broad scale, and without qualification about diminishing returns to thickness, many consumers and even industry professionals assume proportional efficacy based on the R-value numbering scale. A further complication is that windows, doors, and skylights are typically rated on a different scale (U-value or U-factor), which obscures relative insulating performance among various elements of the thermal envelope.
Before offering solutions, we discuss four problem areas with the use of R-value and other insulation metrics: scale, diminishing returns, other losses, and different rating systems. These all impact how industry professionals convey value to clients about choices in the thermal envelope.
Scale
The first and most critical weakness of R-value is the scale's disconnect from practical understanding and application. The scale derived naturally from a mathematical formula (R-value = temperature difference across the insulation barrier divided by heat flux through the insulation barrier), but most people cannot extract actionable meaning from a static R-value rating. Benchmarking the percentage of conductive heat flow resisted by an insulation material against 100% (0 to 100% scale) would more intuitively communicate its relative effectiveness compared with competing products. R-value does have the helpful feature of being additive, meaning that insulating products may be stacked (or different insulation products combined) to achieve a cumulative R-value sum. Conversely, a percentage metric is not additive, which we discuss in the next section, but this difference could be clearly explained in labeling.
The R-value of an insulation product is the reciprocal of its thermal conductivity coefficient (TCC), and the percentage of heat flow blocked or resisted by that material is one minus the TCC. As an example, the TCC of an R-16 product is 0.0625 (1/16), and the percentage of conductive heat flow blocked or resisted (under typical conditions) is 94% (1 - 0.0625, rounded). Labeling an insulation product as achieving 94% resistance to heat flow would be far more instructive to decision makers than R-16. The "under typical conditions" qualifier above is needed for both R-value and its associated percentage of resistance to heat flow, as both metrics will vary slightly based on operating temperature, temperature difference across the insulation plane, and the building plane on which the insulation is installed (driving force). But the variances are small, and a more actionable number with caveats would be more practical than a precise metric that means little to consumers.
One simple improvement would be to require labeling that includes the percentage of conductive heat flow resisted. For the example above, the product might be labeled R-16=94%*. The asterisk is needed to qualify the additive differences between these two metrics, to acknowledge ratings under typical conditions, and to disclose limitations against other forms of heat flow. This is discussed in more detail in "Summary and Solutions," below.
Diminishing Returns
The second weakness with the R-value metric is that it ignores the diminishing returns of adding more of the same insulation, or stacking insulating products, which results in misconceptions about the value of increasing insulation levels (see "Resistance to Conductive Heat Flow by R-Value," above, for an illustration of the diminishing returns of scaling R-value). We have noted the helpful feature of R-value being stackable. However, without the percentage scale outlined above, most consumers will assume that insulating value is proportional to the combined R-value rating. For example, if we go from standard cavity insulation in a 2x4 wall (R-11) to a 2x6 wall (R-19), we do gain 42% more R-value (an increase of R-8). But many, even those who work in the building industry, assume that we get 42% greater resistance to heat flow, which is false. The 2x6 wall slows heat flow by only 4% more than the 2x4 wall.
The R-values that building codes in most temperate climates currently require in floors, walls, and ceilings are on the waning end of diminishing returns. In many cases, adding thickness (and additional R-value) of the same insulation only negligibly reduces heat loss while incurring significant financial and environmental costs. To restate this concern, there may be fractional advantages in reduced conductive heat flow by increasing R-value beyond the code requirements, yet there will also be added labor and material costs, affecting both finances and resources. The returns are less than optimal for the individual payer and society at large, yet the perception persists of net benefits gained by bulking up the thermal envelope with insulation R-values. Depending on the building structure, it is often advantageous to combine different insulating products to reduce heat flow. The thermal advantages come from factors other than conductive losses, such as limiting thermal bridging and convection. One common example is continuous exterior rigid insulation, which, in combination with stud cavity insulation to meet R-value code for walls, helps reduce convection losses and breaks thermal bridging through framing members.
Other Losses
The third concern with the predominant use of R-value is that without labeled caveats, it invites the misconception that R-value determines the effectiveness of the thermal envelope. R-value is not misleading for what it claims and reports, but without context, it opens the door to misunderstanding. R-value is a measure of resistance to conductive heat flow, but there are also convective and radiative losses through thermal envelopes that insulation at any R-value will not resist; this is described in a concept called effective R-value. Additionally, myriad other weaknesses get designed and installed in buildings. Even after the thermal envelope is carefully engineered and crafted, we poke holes in it to meet other code requirements or to make the indoor space more livable and aesthetically pleasing. Bath fan vents, dryer vents, and range hoods vented to the outside open holes through the thermal envelope and are often dampered with just a thin rigid flap (minimal R-value and ripe for convective losses). Beyond those perpetual passive intrusions, occupants use those vents to force conditioned air outside during operation, pulling in unconditioned air as replacement—a significant heat loss unrelated to thermal envelope insulation.
Utility penetrations also impact the thermal envelope. With careful planning, most plumbing pipes can be kept out of insulation planes, but required drain stack vents are open holes through the ceiling and roof, and they are often sealed with a single membrane around larger gaps in the upper thermal insulation plane. Electrical outlet and switch boxes are required by residential codes at prescribed spacing around walls, including exterior walls. These displace insulation and dramatically reduce R-value, creating permanent and excessive weak points in the thermal envelope, as illustrated by the thermal images above.
Though this issue is independent of our call for improved metrics and labeling, it is further evidence that required R-values in building codes alone are not a sufficient measure of thermal effectiveness. Regardless of wall thickness or installed R-value, pulling electrical boxes out of insulation cavities will avoid significant compromises of the thermal plane. Below are a couple of examples of functional surface-mount options .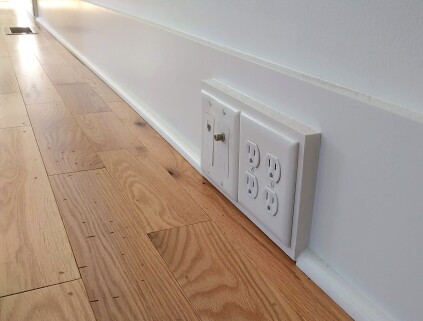 Beyond these compromises, we design buildings with windows and doors (and maybe skylights) that have insulation values far lower than walls, floors, and ceilings, and this brings us to another matter of contention.
Multiple Rating Systems
The fourth concern is the use of multiple rating systems in many jurisdictions. In the United States, building codes and insulation products applied to walls, floors, and ceilings reference the R-value rating system, whereas windows, doors, and skylights reference U-value or U-factor. R-values and U-factors are reciprocals, so it is not challenging to convert them to a single scale, but too many consumers do not understand this relationship, and labeling requirements do not mandate the disclosure.
Why isn't there a common standard in labeling? One reason may be that different agencies evolved to regulate the different elements of the building envelope. The Federal Trade Commission (FTC) regulates the R-value system applied to walls, floors, and ceilings, and the National Fenestration Rating Council (NFRC) regulates the U-factor system applied to windows, doors, and skylights. While the FTC is a government agency, and the NFRC is an independent nonprofit organization, they have similar missions to improve the products and systems they regulate and improve product information to help consumers make informed decisions. To that end, we recommend that percentage resistance to conductive heat flow be added to the U-factor rating as well. That would create a standardized link between R-value and U-factor and provide an actionable metric for consumers to make informed choices.
The calculation to provide the percentage resistance to conductive heat flow from a U-factor rating is simple: One minus the U-factor. Since U-factor is already a proportionate measure of how well a window insulates, the scale is not misleading like the R-value rating.
Converting U-factors to percent of conductive heat flow resistance yields the values in the table at the top of the facing page. The chart above does not represent the full range of U-factor ratings, but it covers most fenestration options and code requirements in temperate climates. Even the best insulated windows, sold at a high cost premium, typically lag the insulating value of the walls they are placed within, and that results in mismatched elements in a thermal envelope. For example, where we are writing in U.S. climate zone 4, the local building code requires a fenestration U-factor of 0.32, which is equivalent to an R-value of 3.1 (1/0.32) and 68% (1 - 0.32) resistance to conductive heat flow—well below the R-15/93% code requirement for walls in this jurisdiction. Consumers can upgrade windows, at relatively high cost, but even the best-insulated windows will resist conductive heat flow less than walls insulated to minimum code requirements.
Summary and Solutions
We have argued that current metrics for rating insulation do not provide the most helpful information for consumers to make informed decisions. Instead, they create confusion and misconception, and multiple rating systems do not connect the different elements that form a complete thermal envelope. R-value is ingrained in the lexicon of the construction industry, if not the broader society, and it remains valuable because of its stackable feature. We are not recommending that these metrics be replaced, but rather that they be augmented with additional information.
Click to enlarge

The sample labeling scheme shown above would be one way to include the percentage resistance to conductive heat flow, which is an immediately actionable metric that's critically important for comparing different insulation products. Listing a broader range of the R-value scale would help consumers place specific products in the scope of possibility, and this range with the percentage scale would clearly reveal the diminishing returns to R-value. Finally, caveats could be added to disclose known limitations.
The U-factor scale does not suffer from the diminishing returns problem associated with R-value, but as a static metric, it does not support an intuitive understanding of heat flow. Also, it's egregious that we have no requirements for linking U-factor and R-value. The sample labeling scheme shown below would be one way to include the percentage resistance to conductive heat flow, which is an immediately actionable metric that would also provide the link between U-factor and R-value.
Additionally, listing an R-value range on the U-factor label would help consumers consider how fenestration products compare with wall assemblies.
Finally, as suggested with R-value labeling, caveats could be added to U-factor labels to disclose known limitations. Windows have other important specifications, like solar heat gain coefficient, visible transmittance, and air leakage, and those also need to be included. The Federal Trade Commission (FTC) and National Fenestration Rating Council (NFRC) should want to improve information to consumers about the products and systems they regulate, and these samples provide what we believe are needed additions to product labeling. These changes will better inform consumers of the effectiveness of the insulation products they buy, provide a linking standard to compare U-factor and R-value ratings, and begin dispelling the misconceptions associated with diminishing returns to R-value.